Tour guide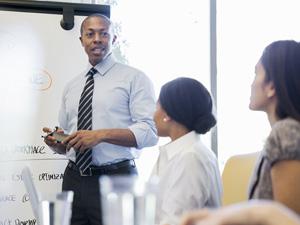 Aimee Brown
It is world-famous for its architectural excellence and a tourism drawcard but for Mel Armstrong, the Sydney Opera House is also her "office". The 27-year-old has been a tour guide at the Opera House for six months, conducting four one-hour tours each day. The tours combine current and historical information.
"It's very informative in a performance, historical and architectural sense and a lot of fun because it's all embedded in storytelling," she says.
A normal working day can cover many extremes. "The other day I had some girls from a high school in Randwick and all they wanted to do was to go to where Australian Idol was filmed," she says. "Then I had a group of over-60s and they were interested in completely different things.
It's a lot about intuition and finding out what a group wants." Armstrong is also an actor so the chance to watch rehearsals by acting groups such as the Sydney Theatre Company and the Bell Shakespeare Company always gives her a buzz.
She says the privilege of observing the country's best performers as they warm up for evening shows every day is a thrill that never diminishes.
"You get to see the working of the theatres, performers rehearsing. It is so insightful for me as a performer," she says.
Prior to her current position, Armstrong worked as a tour guide on BridgeClimb on the Sydney Harbour Bridge from 1998 onwards. She says: "BridgeClimb was a bit more of an adventure. But for me, working here is more satisfying because I'm an actor and I'm talking about my passion every day."
Armstrong became a tour guide by chance, after seeing the BridgeClimb position advertised in a newspaper. "When I left school I did an arts degree in theatre and film, then two years full-time acting. Then I saw [the job] and thought itwould suit my acting skills," she says.
Working as a tour guide allows her to balance the two careers.
"I have dual careers in that I'm rehearsing at night and conducting the tours during the day," she says. "I do a lot of commercial work. I did my first feature film and two short films last year."
She squeezes in as much research as she can on all the latest shows and finds her acting skills indispensable when it comes to keeping an audience captivated as a tour guide.
"You've got to entertain people, keep them interested. You need to tell them a good story," she says. "You also have to have experience in public speaking and really good customer service skills because you deal with a wide range of people."
Fitness is also important. "During each tour there are around 200 steps, which adds up," Armstrong says.
How to be a … tour guide
No formal qualifications, but work experience in the tourism industry is an advantage. You can also do a course, such as the Certificate III in Tourism (Guiding) at TAFE. Tourism Training Australia, 02 9286 3944 or tourismtraining.com.au
By Aimee Brown, The Daily Telegraph, April 22, 2006.