Radio host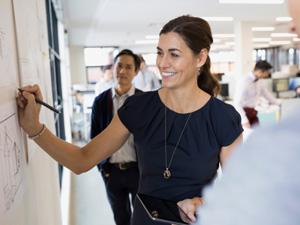 Entering a competition was the catalyst for a career in radio for Kristan Fahd who scored his coveted promotions job with The Edge 96.1 after the prompting of a friend. Fahd worked in sales and marketing before the friend convinced him the competition was worth a shot.
So Fahd put a tape together and later received a call from the station telling him he was one of the top five contenders. "We worked for the radio station for two weeks, being put through various training exercises," he says.
"I had to go to Liverpool train station at 7am and get people to stick arrowroot biscuits with butter on me," he recalls of one prank. Fahd didn't win the competition, but it wasn't long before his assertive personality was making waves at the station and they got him on board anyway. Fahd earned the on-air moniker of "Habib" which came from his workmates at the station because of his Lebanese heritage.
"I know there are a few other Lebanese guys in radio but not that many. `Habib' is distinctive and people pick it up easily," he says. Fahd began working as a promo guy, driving the station's car, the Road Rager, across Sydney.
He had his first taste of announcing in the role, doing live crosses from the car to the studio. He then progressed to doing MC roles in shopping centres, counting working with for Delta Goodrem as a career highlight.
Then the transition to announcing came when Fahd hosted the midnight-to-dawn slot. But he has since given away the graveyard shift for the coveted nightly urban music countdown show alongside his co-host, station veteran K-Sera. Fahd says he never planned to get into radio, he just fell into the role.
"I had no idea about radio, but I did think `I just don't see myself doing this nine-to-five gig every single day'," he says.
"When I started to do the promo thing I thought `this radio thing is pretty cool' and just wanted to learn more and more. "After I finished my promo work I would go up to the studio and teach myself how to use the desk.
"I remember walking past the studio and seeing all the other announcers and saying to myself, `I want to do that'."
How to be … a radio announcer
Completion of a course in media studies or journalism can enhance your
employment prospects.
For further information contact the Australian Film Television and Radio School, 02 9805 6611, aftrs.edu.au.

By Erica Watson, The Daily Telegraph, October 15 2005.