How to find and get the best out of a career coach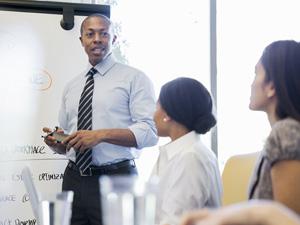 Career change or getting a leg up onto the next rung of the career ladder on your existing path can be difficult and sometimes you need that extra help "" professional help.
Career Development Association of Australia national president Dr Peter Carey says making the first step towards a career goal is the hardest part.
He suggests people who are unsure how to take that next step can save time and angst by seeking guidance from a career counsellor.
"There are lots of different names for a career counsellor we often refer to them as career development practitioners and they have lots of different specialisations, such as the unemployed, students and indigenous people," he says.
"A career counsellor is able to identify the skills and attitude employees need to acquire in order to thrive in today's work environment.
"Their aim is to coach and mentor people to help them to the next step in their career."
Professional career coach Karalyn Brown of Interview IQ says getting the most out of a career development practitioner involves finding someone you trust.
"You need to get a sense of whether someone understands what you need," she says.
"Speak to them on the phone first and listen to the type of questions they ask you about work, and whether they listen to your answers before giving advice."
The length of time a person requires with a career coach and the cost depends on how much coaching they need to achieve their goal, Dr Carey says.
Someone who has had a huge variety of jobs and who wants to find a way to market themselves convincingly might need one or two. A person wanting to make a complete career change will need more sessions.
"Usually it's six sessions getting to know the client, planning and assisting them to move forward in their career," he says.
"Some of our members charge $3000 a day for corporate, but we also do free work with students and the unemployed.
"Generally, people do six sessions and the cost ranges from $600-$900. Career counsellors charge anything between $60-$120 an hour."
You can find career counsellors through CDAA's online directory or use an online directory such as True Local and type in career coach.
"Even the smallest changes can drastically improve your career status," Dr Carey says.