Over-60s staying in the workforce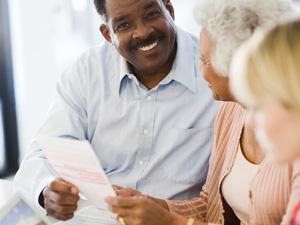 Sample Cover Letter - IV
Nadine Williams
OLDER men and women are shelving retirement plans to stay in paid work longer than ever before.
New figures show the start of a dramatic shift in the demographics of the workplace, with increased participation of workers aged over 59 at a time when the overall workforce participation rate is falling.
Since 1995, the participation rate of men aged 60-64 has risen by almost 10 per cent, while men aged over 65 recorded a surprising 30 per cent increase, the AMP.NATSEM Income and Wealth Report shows.
Older women reflect the same growth picture. Almost one-third of women aged 60 to 64 are in paid work – about three times the proportion in 1985. Reasons for the trend include an increase in the eligibility age for the pension, greater employer acceptance of older workers and an expanding service industry. This contrasts with figures over all ages which show fewer Australian men are working – 7l.7 per cent in 2005 compared to 75.2 per cent in 1985, a fall of 3.5 per cent. Women's workforce participation rates, however, have risen from 45.7 per cent to 56.7 per cent.
The strong societal trend which has emerged over the past 10 years has seen a growth in the participation rate of women aged over 45.
It has increased by 26 per cent for women aged 45 to 54 years, by 28 per cent for those aged 55 to 59 years and by 31 per cent for those aged 60-64.
In South Australia, almost 10 per cent of men aged over 65 are still working and the figure is 12 per cent nationally. In 1985, there were only 7 per cent (9 per cent nationally) still in paid work.
However, by age 65, the vast majority of Australian women have retired from paid work.
Age discrimination legislation, government incentives to stay at work and the lifting of the compulsory retirement age are all reasons for the increased figures, says AMP financial services director of savings and retirement, Peter Nicholas.
"Government encouragement to older workers to stay in the labour force, the need for workers to build themselves a retirement nest egg, and strong economic growth are all key factors contributing to older workers' increased participation rates," says Mr Nicholas.
"Financial incentives for older workers to keep working include the removal of the work test for superannuation contributions and the introduction of super splitting."
But the news is not all good. Negative attitudes of employers towards mature-age workers has not changed, according to DOME (Don't Overlook Mature Expertise), an employment agency for older workers.
"Our evidence shows that there is not much acknowledgement from employers of the usefulness of mature-age people," warns DOME business development manager Greg Goudie.
"Despite a better participation rate of older men, the mature unemployed haven't benefited from that. While 10 per cent are staying at work longer, we aren't seeing any shift in attitude of employers hiring staff – they are still looking for younger people. The mature-age person, once out of work, finds it very difficult to get back in."
But Mr Goudie hopes the looming workforce shortage will force employers to change negative attitudes to employing mature-age people simply by the weight of numbers.

In an interesting twist, the proportion of men working part-time has increased 8 per cent since 1985, with older men leading the charge. The gender ratio has halved from six times more women working part-time than men 20 years ago to only three times as many women as men in 2005.
Mr Nicholas says the striking increases in older men's workforce participation also reflects an understanding that people want quality of life in retirement and are staying at work to build their superannuation.
"Additionally, flexible work practices, especially the increased proportion of part-time roles, may also be helping boost older men's participation rates and assist them to stay in the workforce past traditional retirement age." says Mr Nicholas.
"This provides an attractive way for many older men to balance financial and lifestyle considerations."
"Today there are five to six employees for every person who is over 65, but in a generation's time, you will have less than half that – 2.4 employees for every person over 65," says Mr Nicholas.
"There will be more jobs than there are people to do them, so the opportunities for people over 65 will be much greater."

By Nadine Williams, The Advertiser, February 10 2006.