How to look the part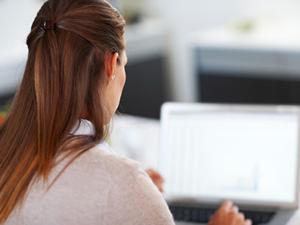 Kate Southam and Zsa-Zsa Bowie Wilson
Use these tips from the experts to look the part of the successful go-getter.
Chris King has worked all over the globe on some very famous faces including Aussie beauties Sarah Murdoch and Elle Macpherson.
In addition to commercial work, King, a partner in Look Make Up Workshop also provides make overs and workshops to corporate women who view personal style as a career tool.

Make-up

Women
"Make up is another form of communication because it is about how you present yourself to the world," Chris said. "If you present yourself well people will listen to you more closely."
"The way you present yourself in the workplace can most definitely give you a foot up the ladder," said Chris. "There is no such thing as reality only perception. You want people's perception of you to be that you are a professional who is the right person for the job."
"And that means starting with the right foundation for your skin type. Always use a lose powder to make the make up last through the day," he said.
Chris said the corporate colour palette for shadows and lipsticks is browns, brown-pinks and rusty tones.
"These are still beautiful colours and they are ageless – you can be wearing this style at 17 or 70. Wearing these colours will help a woman of 45 to 50 look younger. It's a contemporary look," he said.
"You are really going for a tailored look. You are at work for business not to show people what fashion trend you are into this week. Red lipstick might look great with that red jacket you love when you are being the party girl. For the office, neutral tones are best."
"You can still look beautiful at work but if you are a banker, a real estate agent, a senior executive it is better to be efficient looking. You can still be stylish and actually the corporate look is a high fashion trend anyway in Hollywood right now," Chris said.
Chris provides make overs and corporate image consultations to a wide range of women of all ages and career backgrounds.
"Older women approach me for an update because they do not want or cannot afford surgery," he said. "Having the right corporate image and knowing how to apply make up can help women stay on the career track longer."
"So much about success is feeling confident and learning how to achieve a great look will help you gain that confidence you need to do well.
"Many women look at the models in fashion magazines and think 'I can never look like that'. You know what? Those models don't even look like that in real life – they have had their make up done for them."
"Make up is not a mystery. It is something you can learn to master and then it becomes part of your corporate wardrobe," Chris said.
Men
"I don't think make up is for men but men do need to look tailored, sharp and clean," said Chris. "This means a skin care routine, trim eyebrows and shaving."
"It's not about being a metro sexual, it's about taking care of yourself and that reflects well in the business world."
A good business look requires a good skin care routine including cleansing, toning and moisturising. Chris said some men should also neaten up their eyebrows but it might be best to see a professional the first time to get the right look that can then be maintained at home.
"A good deodorant is important to looking clean and presentable and clean. In business, perspiring can make you look insecure and nervy," he said.

Hair tips

Provided by Anthony Nader of salon Raw. Anthony is also Australia's reigning Hairdresser of the Year announced at the Australian Hair Fashion Awards 2006.
Women
This season, "power hair" pulled tightly back from the face is out and "fresh and feminine" is in.
"A look that is going to be big this season is a low slung chignon – that is where the hair is pulled back very loosely and then wrapped up on itself and pinned up. It's a very 1930s look," Anthony said.
"Side fringes are also in and are sexier and easier to grow out as opposed to the blunt fringe. The fringe is nibbled out so it frames the face," he said.
"This technique provides a worn in look straight away. It's so you don't look like you just stepped out of the salon."
Anthony said that for long hair the "shattered textured" bob is big. "You will see the look in the latest Gucci ads. This style creates the image of movement – it's not a solid look like the sleek bob of old. It is really fun because you can still tie it back but with shorter pieces at the front."
"The big, big thing for colour is a technique called balayage. Using this technique colour is painted on rather than applied via foils. It creates a worn in, seamless look. For blondes, it mimics the way hair colour lightens naturally with sunlight. Colour is not about chunky stripes."
Anthony believes good examples of the balayage technique include Jessica Alba and Kate Hudson's latest dos and model Giselle's hair in the latest Channel ads.
[Editor's note: If you Google balayage you'll find pages devoted to this hair colouring technique. It's big all over the world.]
Men
"This season, men's hair will be kept on the longer side so it frames the face and the neck," Anthony said. "Again, the aim for the stylist is to create a worn in look and to keep everything quite soft."
"If men want an edgier look for the work place, they can put in a side part and use product. However, no fringes."
"When it comes to colour, the thing for guys is a more natural look. It is NOT about having colour on the top layers – there is nothing worse than that."
"Instead we create 'secret panels' of colour coming from underneath the top layers. It is about enhancing what you have got. The 'Vanilla Ice' look is a bit tragic.
"For dark hair, it is good to go maybe one or two shades lighter rather than darker because darker can end up looking like a helmet or a toupee."
"Men today are so in tune with what is happening so they are not afraid to have colour but it is more subdued and more diplomatic. A good example of good male style is Aston Kutcher," Anthony said.

Fashion

As Myer's resident fashion consultant, Micheline Licha helps people make wardrobe choices based on factors such as their job role, size, hair colour, eye colour and complexion.
Women
"My big rule is 'make sure your work wear blends in with the rest of your wardrobe'," Micheline said. "A lot of women make the mistake of replacing what they have in their wardrobe making it a uniform instead of adding to it and expanding it."
For work wear, Micheline said for women's trouser suits the fit of pants were of paramount importance.
"Corporate pants shouldn't be too fitted. The drop of the pants should start from the mid-point on the bottom," she said. "I try and steer clients towards a tapered jacket, pintucked at the waist as it provides a feminine side to a suit."
To look professional, women should wear a camisole under low cut shirts.
"For women who can wear virtually anything at work there are a lot of beautiful dresses this season," Micheline said. "It is a very feminine look that can take you from work into the evening."
Stockings should be selected based on comfort and fit. Colour will depend on whether your workplace is corporate (flesh coloured or black) or casual (colour up to you).
Shoes should be closed in from front to back. "Even if they can wear open-toed shoes in the workplace I suggest women choose a sling back instead," she said.
"Jewellery depends on your role. You don't want managers wearing too much 'bling'. I advise something quite plain with a corporate suit such as small earrings and necklace."
Men
According to Micheline, a corporate culture requires a suit and tie. Stylish pants and shirts are fine for less formal workplaces. "Slim fit shirts should only be worn in the informal office. Depending on age, some men can funk it up a bit."
"In a more senior role such as CEO or corporate manager, then my advice is to have a lot of structure in their suit so they look the part of the boss or the head of the company," she said.
When it comes to choosing the right tie to go with a shirt Micheline said that today's fashion mean no strict rules. "Many men are wearing stripy shirts with a patterned tie or stripes on stripes," she said.
Shirt cuffs should reach the thumb so that the sleeves don't look too short.
"When shopping for suits always look for good quality fabrics and the pants should fit just on the heel or the shoe so they are not too short," Micheline said.
She said while the majority of men wear black socks colours can be worn if matched well to suits. "The season's colours include charcoal and burgundy as they work with charcoal, blue and black suits. Most of the time for work, lace up shoe are the right choice."
By Kate Southam and Zsa-Zsa Bowie Wilson, careerone.com.au.