Nicholas Cage won't help your job application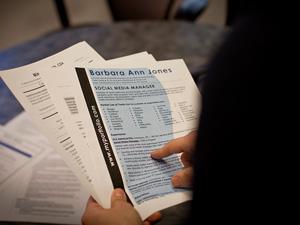 By Kate Southam
Poor Vanessa Hojda. She accidentally included a photo of US actor Nicholas Cage instead of her CV when applying for
a job and made headlines around the world.
And it wasn't just any photo of action man Cage, it was one where he is pulling a very frightening face.
The 20-year-old Canadian had written: "Dear Kelly, I found your ad at the career centre [at her university] the
other day. I was wondering if the position is still available and if you could give me some more information about
it. I've attached my resume and cover letter for your consideration."
And then embedded in the email was the leery face of Nicholas Cage. What would you think if you were a recruiter or
employer? 'She's having a go' – right?
The employer responded to the email with: "Vanessa, all I see is a picture of Nic Cage looking terrifying."
The employer told Hojda that the job had been filled but the would be teacher or child care worker suspects the
employer might have thought 'if she can't get an attachment right, then …."
The email went viral and was reported on top sites such as Gawker. After acknowledging her mistake (over and over)
the psychology student, who is still looking for a holiday, chose to see the bright side.
"This whole thing got my name out there," Hojda told media.
Hodja says the mix up happened because she gave the jpeg photo and her CV similar file names. She simply picked up
the wrong attachment when writing her email.
Mistakes might be just that but you never get a second chance to make a first impression so have someone else check
your documents if you can.
It is vital that you check and re-check your job application documents. CareerOne carried out a survey of employers
and recruiters a while back to ask what makes them bin a job applicant.
Spelling mistakes, grammatical errors and making reference to another job role you are applying for by mistake are
all bin-worthy offences. Mass emailing your cover letter and CV is deadly. A recruiter or employer does not want to
read "Dear Mary Brown of XYZ Company" when their name and company is something different.
The best advice is to tailor each cover letter and resume to each job application – don't just change the names.
Recruiters and employers can usually tell if you are applying for their particular job or just mass applying to
everything out there.
And no photos please. Unless you are an actor or a model you don't need to include a photo of yourself – or of
Nicholas Cage.
Good luck.
CareerOne.com.au, July 2012.